CSIRO flies high to delve deeper into Narrabri faults
CSIRO researchers will take to the skies to shed light on subterranean structures deep below the Pilliga State Forest in the Narrabri region of New South Wales.
The airborne electromagnetic survey will provide new information about the top 400 metres below ground surface, which to date has been studied in a limited fashion due to access restrictions associated with dense bushland.
Results of airborne geophysical electromagnetic surveys will be integrated with geochemical modelling in the latest CSIRO research project designed to better understand connectivity between coal seams and overlying aquifers.
And in parallel, new additional research will be undertaken by CSIRO scientists to develop independent groundwater modelling and predictive analyses.
These analyses will help inform coal seam gas (CSG) groundwater impact assessment and regulatory monitoring and management in the Narrabri region.
Both projects will be carried out through the CSIRO's Gas Industry Social and Environmental Research Alliance.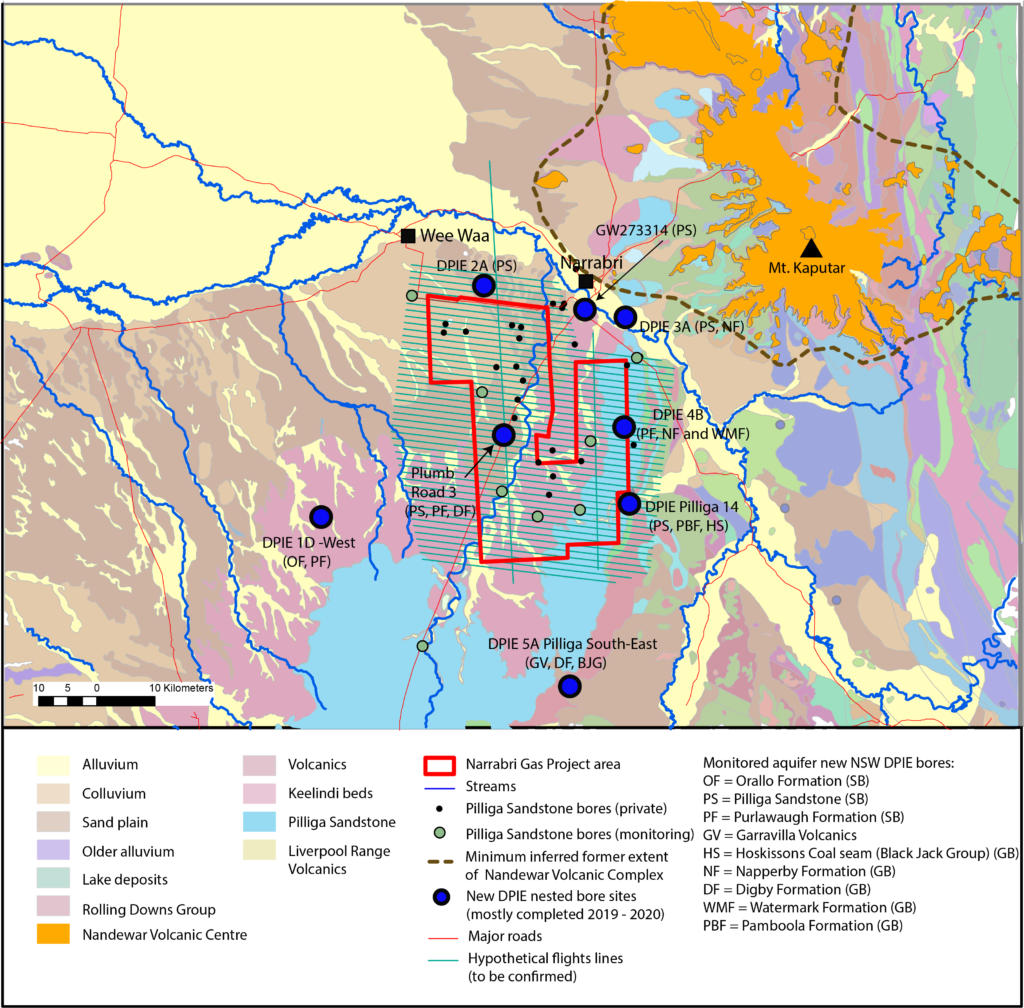 These new projects build on a series of previously completed CSIRO geophysical and groundwater modelling research projects which address public concerns regarding potential impacts on groundwater from proposed gas resource development.
The new geophysical and geochemical research project, Geochemical modelling and geophysical surveys to refine understanding of connectivity between coal seams and aquifers, is designed to fill data gaps identified in previous research.
The project employs a multi-disciplinary approach that combines existing data with targeted acquisition of new hydrochemistry, geochemistry, and airborne geophysical electromagnetic survey data.
Generating important knowledge
Project lead and Senior Research Scientist Dr Matthias Raiber, said CSIRO's GISERA has undertaken three projects on groundwater systems in the Gunnedah and Surat basins around Narrabri.
To date, CSIRO's research has found no prima facie evidence of strong connectivity between the target seams and agricultural aquifers.
"Collectively, this body of work has generated important knowledge on the nature of these systems and potential for connectivity between primary target seams for coal seam gas (CSG) development and important agricultural aquifers," Matthias said.
"However, concern still exists among the community regarding potential drawdown at depth impacting on aquifer pressure in the confined Pilliga Sandstone aquifer and the adjacent alluvium."
"Research results will further improve knowledge of these groundwater systems and potential for connectivity pathways between the shallow Pilliga Sandstone and alluvial aquifers and the deep Gunnedah Basin formations, which contain CSG."
The agriculturally important Pilliga Sandstone aquifer and other alluvial aquifers are separated from the deeper Gunnedah Basin formations by aquitards which range in thickness from 300 to 700 metres. Aquitards are compacted layers of clay, silt or rock that act as a barrier for groundwater movement.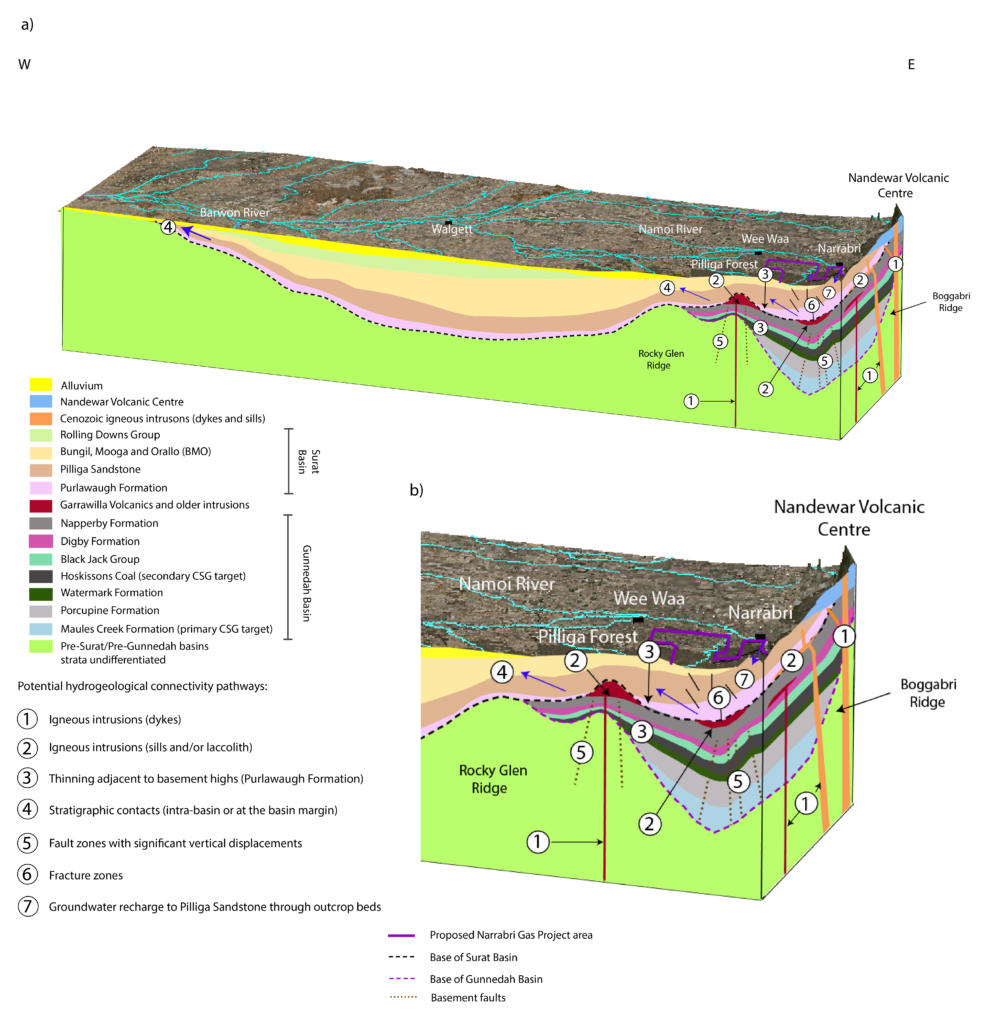 New groundwater modelling
The new groundwater modelling project Groundwater modelling and predictive analysis to inform CSG impact assessment, monitoring and management also extends previous research in this region.
Project lead and Senior Research Scientists Dr Sreekanth Janardhanan said the new groundwater modelling research would help improve understanding of ground flow systems, water balance and connectivity of the alluvial and the Great Artesian Basin aquifers.
"This work is crucially important for assessing and managing impacts of coal seam gas depressurization in the Gunnedah Basin formations to the Great Artesian Basin aquifer Pilliga Sandstone and its interaction with the Namoi Alluvium," Sreekanth said.
The project will develop and apply a sub-regional groundwater modelling framework to simulate current and future groundwater balance in important aquifers in the Great Artesian Basin and Namoi alluvium in the Narrabri region.
Both projects will share and incorporate their respective results to help build understanding of groundwater systems, and inform community, government and industry about groundwater management issues.
Latest research
The most up-to-date research in this area, described in the recently released CSIRO report Assessment of faults as potential connectivity pathways provides the most comprehensive multi-disciplinary investigation of the region to date.
Using a combination of different geophysical methods and environmental tracers CSIRO scientists assessed the continuity and performance of aquitards separating shallow aquifers and coal seams within and near the proposed gas project development area south-west of Narrabri.
Results showed that:
Geophysics indicate the presence of some faults and fractures which could act as potential pathways for movement of water and gas but no prima facie evidence for strong connectivity was observed.
Hydrochemistry and tracers indicate that throughout the east and south of the proposed CSG development area aquitard extent and integrity limits the potential for vertical connectivity.
Hydrochemistry and tracers also indicate some geological structures likely form local connectivity pathways north-west of and outside the proposed development area.
Mixing calculations – which take Pilliga Sandstone aquifer groundwater samples "downstream" north-west of the proposed development area – suggest the increase in salinity in the Pilliga Sandstone is more likely due to mixing from deeper formations located beneath the Pilliga Sandstone and above the target CSG formations in the Gunnedah Basin.