Construction booms and traffic bottlenecks – mapping future transport
The CSIRO's Gas Industry Social and Environmental Research Alliance (GISERA) used TraNSIT to analyse the transport impacts across a range of hypothetical shale gas development scenarios for the Beetaloo Sub-basin.
One of the most visible impacts of new resource development is an increase in the volume of traffic on national, regional and local roads.
And while people living in major cities may be resigned to peak hour traffic, residents in previously quiet regional and rural communities find endless convoys of heavy vehicles rumbling through the main street of town to be a source of intense frustration and increased risk of accidents.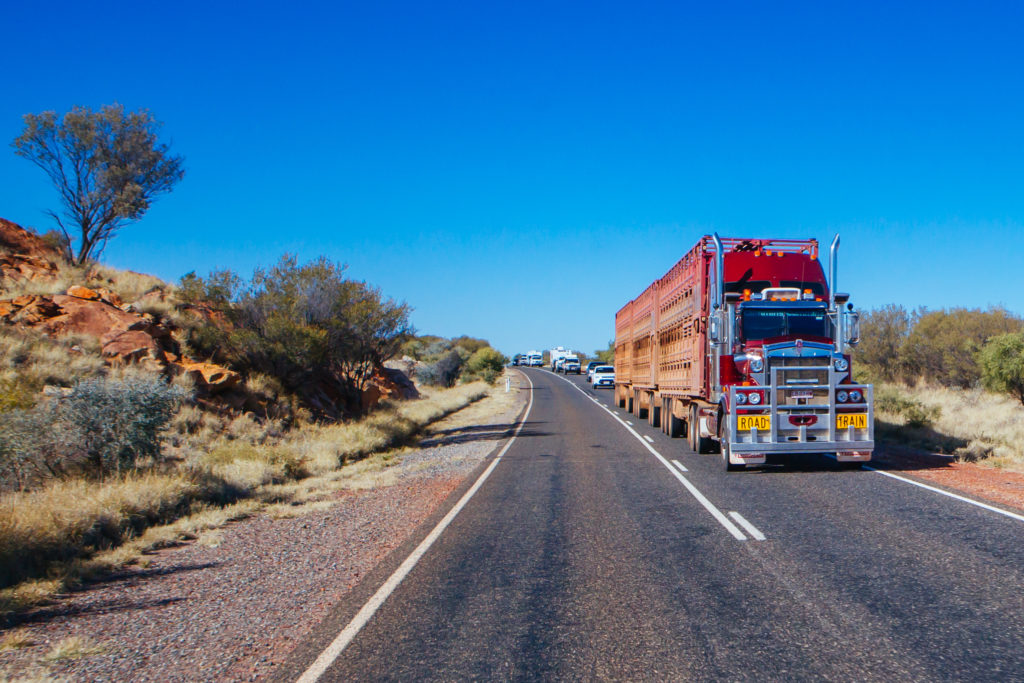 Take the charming wheat and cattle town of Wandoan in Queensland's Western Downs for example – Wandoan is a welcome stop between Miles and Taroom along the Leichhardt Way, north of the Warrego Highway.
In 2010, when the Surat Basin coal seam gas boom began, Wandoan experienced a surge in traffic offences that peaked in 2013/14 at a rate three times the Queensland average.
Research by The University of Queensland found that increased traffic from CSG activity coupled with local roads not built for this volume of traffic exacerbated the number of traffic offences.
With the initial construction phase of the Surat Basin CSG well past, peak traffic volumes have reduced and many communities in the region now enjoy a safer upgraded road network, as any traveller on the new Warrego Highway range crossing and Toowoomba bypass will attest.
But what of traffic impacts for new onshore gas development regions as outlined in the Federal Government's National Gas Infrastructure Plan (NGIP), like the Northern Territory's Beetaloo Sub-basin?
The Beetaloo Sub-basin is located in a remote part of the Northern Territory, serviced by a limited number of major roads, unsealed minor roads, and the Adelaide to Darwin rail network.
Just as occurred in the Surat Basin, Queensland, the construction and operational phases of proposed onshore gas development could significantly impact freight volumes along the regional road network.
CSIRO's TraNSIT
Australia's leading science agency the CSIRO has developed the Transport Network Strategic Investment Tool (TraNSIT) – a unique transport mapping tool that has mapped supply chains for over 140 commodities in Australia, accommodating 520,000 enterprises and nearly a million supply chain paths. It includes the major commodities in the Northern Territory, including livestock, mining and horticulture.
A recently completed research project conducted through the CSIRO's Gas Industry Social and Environmental Research Alliance (GISERA) used TraNSIT to analyse the transport impacts across a range of hypothetical shale gas development scenarios for the Beetaloo Sub-basin.
CSIRO Senior Research Technician and project coordinator Caroline Bruce said the aim of the research – Mapping future transport passages and volumes for improved planning and operation – was to understand these potential changes in regional freight volumes on the established road network, relative to current heavy vehicle freight movements.
These changes in regional freight volumes were based on hypothetical demand for different supplies and equipment.
"Understanding these changes allow the Australian and NT Governments and other stakeholders to use evidence-based information to plan management interventions that would accommodate increased traffic from additional onshore gas development," Caroline said.
Hypothetical model
The hypothetical model assumed a site hub each within three drilling fields in the Beetaloo Sub-basin, in total comprising 645 wells across 64 pads (10 wells per pad) and a 20-year operational lifespan.
For the year 1 construction stage, 483,675 tonnes of freight would be transported in or out of the Beetaloo Sub-basin, at a total annual cost of $38 million.
This represents a 20 per cent increase on the existing 2.35 million tonnes of annual freight volumes, although the increase varies significantly across major roads, ranging from 20 per cent on the Stuart Highway to over 100 per cent at some locations on the Gorrie Dry River Road.
The peak operational stage would have a similar freight demand to the construction year 1 stage but a higher transport cost of $49 million due to longer-distance freight movements.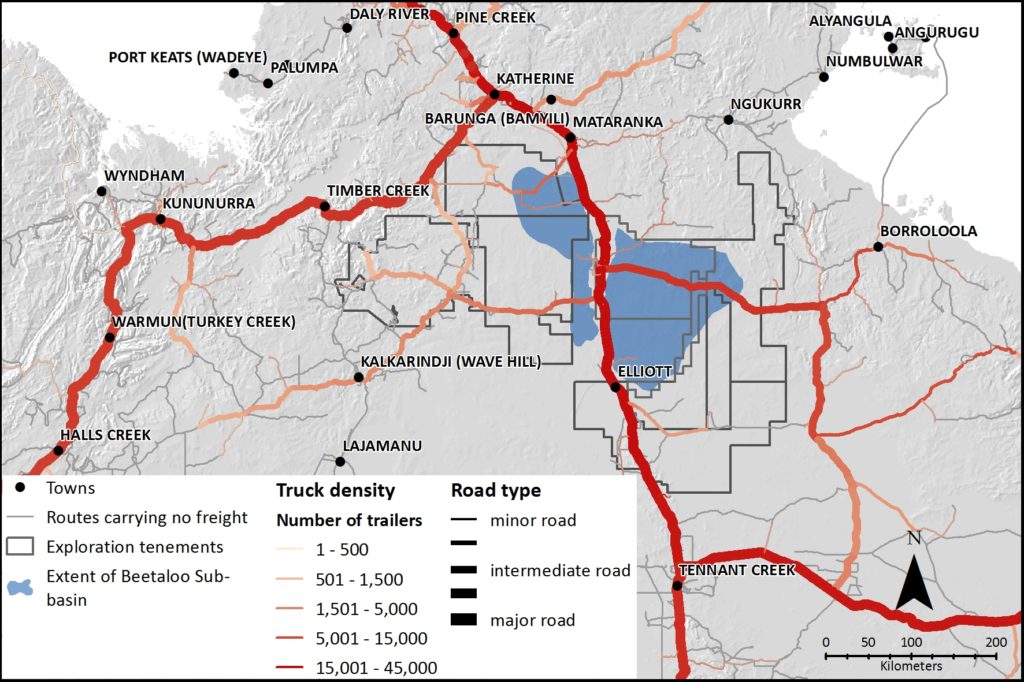 "What if" scenarios
The research also examined three 'what if' scenarios to compare how costs and changes to future hypothetical freight flow could change due to different transport network and supply chain conditions.
These scenarios, developed from discussion with stakeholders, were:
freighting of pipes by road from Townsville Port to all national pipeline demand locations
congestion of key roads between the Darwin Ports and Humpty Doo resulting in a doubling of travel time along these sections of road
closure of a number of roads in the Beetaloo region due to wet season flooding.
The impact of road closures during the wet season was most significant, with closures resulting in longer trips (up to 2.5 times hypothetical future base flow) and greater than 150 per cent increases in freight costs.
This research program is part of a suite of CSIRO's GISERA studies being undertaken in the Northern Territory in line with the recommendations of the March 2018 final report of the Scientific Inquiry into Hydraulic Fracturing in the Northern Territory.